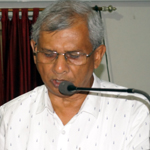 'Have you put on Christ?' by Mr. Paresh Das (10th November, 2019)
Mr. Paresh Das preached on the theme 'Have you put on Christ?' from Matthew 22:1-14 & Romans 13:14.
What are you wearing today? Are you dressed up in the garment the Lord has provided? The garment of Righteousness.
Are you willing to obey Him fully? Put on the Lord Jesus Christ before it is too late. It is time to live for the Lord and be a witness.