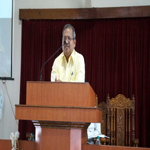 'Have you missed Jesus!' by Mr. Sanjeeb Kumar Das (14th January, 2018)
Mr. Sanjeeb Das spoke from Psalm 92:10. His theme was 'Have you missed Jesus!'
We are in the Last days as the Bible says very clearly. Let us be careful and analyse where we are in our spiritual life today!
Many in the Bible have gone away from God's Grace and missed Him like Saul, Samson, the Pharisees, Sadducees and the keepers of the law. Even Mary and Joseph lost Jesus, but then found Him in the temple. Saul of Tarsus lost Jesus while keeping with the traditions, but Jesus caught him on the road to Damascus.
Have you missed Jesus today! Retrospect.