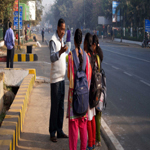 Gospel Awareness on Republic Day 2017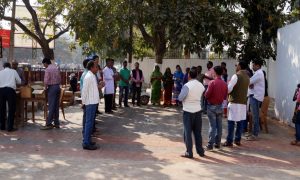 On 26th January, like previous years, literature and New Testaments were distributed to passersby near the Church on occasion of India's 68th Republic Day. Many worshipers came forward to distribute the Gospel to people. We had a wonderful response as people took the Gospel nicely. There was a wonderful response from the people who accepted the Bibles. We need to pray for people who have never heard about Jesus Christ; because this Gospel needs to be shared before the end will come. Both our Associate Pastors were present and they encouraged one and all who were to carry on the good work.
After the distribution was over, Rev. Ayub Chhinchani reiterated the fact that our work is not over by just giving the literature, but we need to Pray that they will read the Word of God and let the Holy Spirit stir their hearts and let them receive Jesus as their personal Lord and Savior.  Please remember those who have had the Gospel in their hands for the Holy Spirit to touch their lives. We thank the Church for taking such initiatives every year to share the Gospel of Christ Jesus.