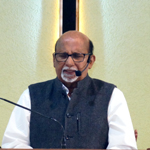 "God's Promised Rest" by Rev. Bijoy Kumar Das (10th September, 2017)
Rev. Bijoy Das preached from Hebrews 3:7-19. His theme was 'God's Promised Rest'. Three things we need to understand from this passage: They are –
a). What is the Rest this passage is talking about?
b). How do we enter His Rest?
c). What does this mean to us today practically?
We must understand and know this as a believer in Christ that He is in control, He loves me and one day, I will be with Him forever.