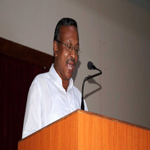 'God is Good all the time' by Rev. Dr. Ayub Chhinchani, (English Worship), 03-05-2020
In the first week of May 2020, as the nation is in Lock down mode, and we are about to enter lock down 3.0; we welcome you to the #WORSHIPFROMHOME Online Sunday English Worship for you. Rev. Songram K. Singh presided the English Service while Rev. Dr. Ayub Chhinchani preached God's Word from Nahum 1:1-7. The theme of his message was 'God is good always'. Nahum was a minor prophet and his book was a book of God's judgment for the people.
This morning, let us remember God loves each one of us irrespective of who we are and what we have done! He is Good because He loves us; He cares for us and wants to establish that relationship with Him. After the message, we shall have the Holy Communion. Stay blessed.