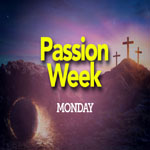 'God hates Wickedness' by Rev. Dr. Ayub Chhinchani (Passion Monday), 06-04-2020
Today is Passion Monday. Let us continue on Jesus' journey to the Cross. Rev. Dr. Ayub Chhinchani is sharing from God's Word from Mark 11:12-19. The theme is 'God hates wickedness'. How is our life today? Time to retrospect in the light of God's Word.
Let us listen to God's Word and be blessed.