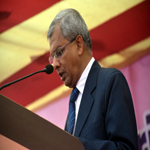 'God answers Prayers' by Mr. Paresh Das (21st June, 2018), Prayer Week (Day – 4)
Mr. Paresh Das preached from Psalm 91:15. His main theme was God answers Prayers. You must taste the essence of Prayer. God is ready to hear our prayers. We must pray with confidence. He knows our minute details; also He knows our deepest needs.
When we pray, we must pray for the Gospel. We cannot be self centered in prayer. When we pray for Evangelism, He hears our personal prayers too.
Prayer is the bridge between Panic and Peace. In Acts 12, we see the Power of Prayer in Peter's escape from prison. When God's people prayed in unity, God answered their prayers.