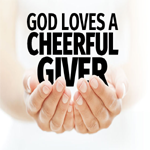 GIVING (Online/Offline)
Apart from the Online giving facility, you can also give your donations/offerings offline directly at the church.
---
YOUR KIND ATTENTION PLEASE
Many of you have been forwarding your offerings, contributions, tithes and donations to Church of Christ (Union Church) online. Thank you so much for the same. The worshippers can now make their payments directly at the Union Church, Unit-4, and collect the receipts instantly. You can make the payments every Monday, Wednesday and Friday between 8 am and 10 am.  The Treasurer Mr. Purnananda Pradhan,  Deacons Mr. Santanu Kumar Rout, Mr. Michael Rajesh Behera and Er. Sandeep Kumar will be present to receive the offerings during the time and day indicated above. This system will continue every week till normalcy is restored. YOU CAN MAKE THE PAYMENT TODAY.
---
Thank you. – Mr. Paresh K. Das (Secretary)