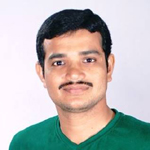 'Give importance to God's Word' by Mr. Pratap Sahoo, (Prayer Week Day – 5), 11-01-19
Mr. Pratap Kumar Sahoo preached on the 5th Day of the Prayer Week (7-12 January 2019) from . The theme of his message was 'Give importance to God's Word.'
Prayer is important, but we need to give quality time for God's Word too. We need to read it, absorb it and live by it as the Bible says.
Remember, His Word is Precious and Valuable. We need to ask ourselves today, are we spending time in God's Word. If not, what better day than today!
Prayer and Obeying God's Word go hand in hand. Praise God.