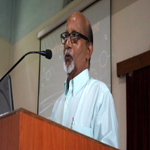 'Four Preparatory Acts' by Rev. Bijoy Kumar Das (Passion Week), Wednesday, 28th March, 2018
Rev. Bijoy Kumar Das preached from Mark 14:1-16. His theme was 'Four Preparatory Acts'. They are:
1). The Leaders prepare to Kill Jesus. Their intention is to take Jesus by trickery.
2). Mary prepares for Jesus' burial. Here we see how Mary anoints Jesus using an alabaster jar of expensive perfume.
3). Judas prepares to betray Jesus Christ. He goes to the Chief Priests and makes the deal for 30 pieces of silver.
4). Disciples prepare to keep the Passover. They prepare it with obedience.
How is our life today! Like Mary and the 2 Disciples who were faithful in preparing the Passover or like Judas Iscariot! Retrospect.