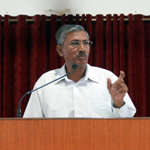 'Follow and Share Jesus' by Rev. Samuel H. Lal (24th September, 2017)
Rev. Samuel Hilel Lal spoke from a familiar passage of the Samaritan woman from John 4:1-29. His theme was "Come and Follow Jesus'. As Jesus passed by that day, He was weary, hungry and thirsty. In this encounter with the Samaritan woman, we see 4 things revealed about Jesus/4 barriers that were broken. They were:
a). Personal barrier; b). Religious barrier; c). Social barrier; d). Spiritual barrier. When it happened, she became a witness for Christ.
Let us remember, only Jesus can give Eternal Life. Don't ever miss a chance to share Christ with others because He transforms lives.