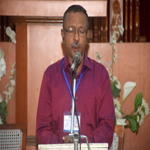 "Faith v/s Works" by Rev. Ayub Chhinchani (2nd July, 2017)
Rev. Ayub Chhinchani spoke from James 2:14-26. His theme was 'Faith v/s Works'. Do we say, we have Faith, but no works to support it! There are 3 types of Faith we see. It is 3D's of Faith:
a) Dead Faith
b) Demonic Faith
c) Dynamic Faith.
How is life today! Is it really Faith that Pleases God! Watch out.