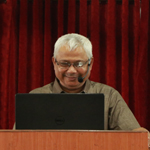 'Experiencing the Resurrection' by Rev. Susanta Patra, Resurrection Sunday – English, 21st April, 2019
Rev. Susanta Patra preached on the theme 'Experiencing Resurrection' from John 11:17-27. The Bible says He is not here; He is Risen. 3 thoughts can be drawn from Matthew 28 and John's Gospel.
1) By confronting death: a) Certainty of death as given in John 11:17,21,23; Romans 5:12-14 and Hebrews 9:27. b) Cause of death is given in John 11:1,4; Romans 3:23 and 6:23. c) Anguish of Death as recorded in John 11:31-35.
2) By Believing what He said: What? Why? How did He say what He said? Jesus said in John 11:25 'I am the Resurrection and the Life.' What He said is true; by acknowledging daily the Jesus is life; that He is Savior and Lord.
3) By Confessing Christ: You need to believe in your heart and confess with your mouth, that Jesus is Lord. (Romans 10:9). We should praise God for Faith, Assurance, Fear of death is defeated, hope of eternal life.
We confess by exercising power through living a victorious life, courageous witnessing and sacrificial serving. We then lead a victorious life in Christ; we need to be a bold witness for Christ. We have to proclaim the Resurrection of Christ.