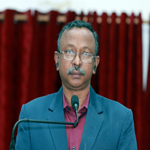 'Effective Prayer' by Rev. Dr. Ayub Chhinchani, (Prayer Week, Day 1), 1st April, 2019
On the 1st day of the Prayer Week, Rev. Dr. Ayub Chhinchani preached on the theme 'Effective Prayer' taken from 1 Kings 18:41-46. There are 4 things we need to learn from Elijah's Prayer life:
1) He humbled himself. He gave his all to God.
2) He prayed specific prayer. He was sure on what he wanted from the Lord.
3) He prayed expectantly. He was hoping miracle from God.
4) He prayed persistently till God answered his prayers.
Please let us remember, when we pray let us follow this pattern. God doesn't works on our timetable. He is never late; never early. Sometime, he deliberately delays the answer to our prayers not to put us into trouble, but to strengthen our faith.