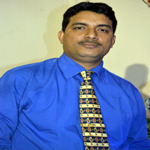 'Crucified Life' by Rev. B.N. Satpathy (5th August, 2018)
Rev. B.N. Satpathy preached from Galatians 2:20,21. His theme was 'Crucified Life'. In this passage, Paul talks about Spiritual Crucification. We need to remember 4 things about a Crucified life in Christ.
1) It is a suffering life. It is not a pain-free life.
2) It is a tradition-free life, but it is a transformed life.
3) It is not the old life; but a new life. We are a new creation in Christ.
4). It is not a self-centered life, but a self-less life. Christ lives in me.
Never forget, Christian life is not a bed of roses; but it is a life of suffering.