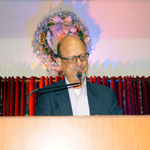 'Crossroads' by Mr. Siddhartha Sahu (18th August, 2019)
Mr. Siddhartha Sahu preached on the theme 'Crossroads' taken from Jeremiah 6:12-16. Many times in life we come to the Crossroads. We should always seek God and ask Him to set us apart in this dark world. We should always keep our trust in the Lord Jesus Christ.
What is God's call today! It is to…
a) Humility, b) Repentance and c) make the right choice.