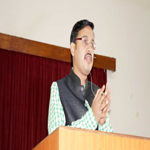 'Created for God's Glory' by Er. Sandeep Kumar (8th March, 2020)
Er. Sandeep Kumar preached on the theme 'Created for God's Glory' from Ezekiel 10:1-5. In this book, we see a 30 year old young man Ezekiel to whom God pours emotionally and physically what his calling was going to be like and he saw the glory depart:
Why does it depart? 1) There was no internalization of the truth; 2) There was no concern for the poor and the marginalized in society; 3) The Silence of God intensified when He was gone.