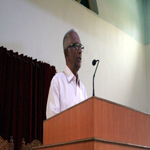 'Come' by Mr. G.S.P. Dhas, (17th March, 2019)
Mr. G.S.P. Dhas preached on the theme 'Come' from Isaiah 55:1-3. This passage contains an Open Invitation and a Great offer. The one who is inviting is God Himself. This is an universal invitation to all who are thirsty.
Sadly, today people go after power and natural things of this world; but that would never satisfy the soul. Only the Spiritual things can give us peace; God is calling us to Himself.
'Come', not for what you must do; but for what you must receive! In conclusion; you must admit your thirst/need for satisfaction; you must admit your poverty/inability to quench your thirst.
Come to JESUS and have your thirst quenched forever.