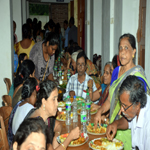 Church Events in October 2019
Quarterly Prayer Week (30 September – 5 October, 2019)
The Quarterly Prayer Week was organized in our church from September 30 and continued till October 5. Many of our worshippers attended the prayer on all days @ 7 pm in the evening, while few new faces joined every evening. We prayed for the church, for our State, for our Nation, for the youths and children, for the families, for the outreach work among other issues. All other church programs remain cancelled during the week. We thank those brothers and sisters who attended this Prayer Week. The next Prayer Week will be held in January 2020.
---
Elders' Get-together on 2nd October, 2019
Like the previous years, the 'Senior Citizens' Get-together' was organised in the Union Church on October 2, 2019. The program began at 10.30 am with worship and the Lord's servant Bro. Satya Sadhan Mandal from Balasore shared God's Word. After the Service, there was Lord's Supper. The program concluded with a simple lunch, though because of heavy rains during that time, we had some difficulty is serving them, but it was an enjoyable experience for everyone who attended. More than 200 senior citizens attended this annual fellowship. We thank the Deacons, Prayer Coordinators and the Youth members for the smooth conduct of this program. We look forward to such an event next year.
---
Water Baptism on 6th October 2019
Five brothers and sisters were baptized in water on 6th morning here. Rev. Songram Keshari Singh conducted the service. They were inducted as members in the afternoon Odia Service. They are Sis. Ripsina Rath, sis. Suruchibala Behera, sis. Rachana Samal, sis. Sonali Samal and bro. Deepak Samal. Those who are baptized on 29th September 2019 were also inducted as members in the afternoon Odia Service.
---
2nd Saturday Chain Prayer on 12th October, 2019
The Chain Prayer will commence at 7 am on 12th October in the church and will continue till 1 pm. Please do come and join in prayer at least for an hour or two during this period and be a blessing to many. Thank you for being so kind in extending your valuable cooperation. God bless you.
---