Church Events in November 2017
Mahila Dibas held on 19th November, 2017
Like every year, the Mahila Samiti observed their Annual Mahila Dibas on 19th November, 2017 in Church in the afternoon Odia Worship Service. It was a special day dedicated to our mothers and sisters. There were some wonderful skits performed by our mothers along with other items. This year, a felicitation ceremony was held for members who have left us already. Many of the prominent ladies were felicitated on that day. Rev. B.N. Satpathy shared God's Word on this occasion. We had a packed house on 19th November to mark the Annual Mahila Dibas celebrations. Those who attended were blessed immensely. Continue to pray for this special wing of the church where our mothers and sisters meet every week.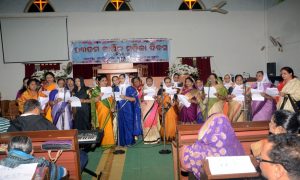 ---
Workshop on Puppetry (17th  November, 2017)
Our Sunday School and VBS teachers as also other members attended a training program on story telling through puppetry in our church on Friday. The program organized through the initiative of Rev. Pradip Kumar Das of Cuttack was attended by two trainers, Mr. Bob Walsh from Virginia, USA and Mr. Tony Lee from Hong Kong. Rev. Samuel Lo from Hong Kong was also present.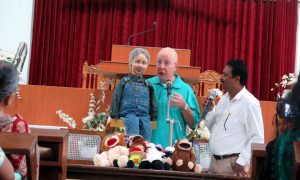 The team has gifted 14 puppets to the church to be used by the Sunday School and VBS teachers. The Workshop was a unique opportunity for our teachers to teach children in a creative way.
---
Media Mission – Revival Meeting (11th November, 2017)
An Interdenominational Spiritual Seminar and Revival Meeting was organized by Trans World Radio (TWR) Ministries to celebrate 40 years of His faithfulness in our Church on Saturday. The Meeting commenced at 6 pm where God's servant Bro. George Philip, CEO of TWR, New Delhi was the Speaker. Bolangir Christiya Kirtan, Sambalpuri (Muktir Bat) were the special attraction for this evening as they performed their kirtan. More than 400 delegates from different churches attended this Revival Meeting. It was truly a blessed time for those present.
---
Fasting Prayer on 11th November, 2017
Like every month, on 2nd Saturday, the Fasting/Chain Prayer was held from 7 am till 12 noon. This month, we had prayer till 12 noon instead of the usual 1 pm. We thank those brothers and sisters who attended this time of Prayer. Various issues were prayed for on this day. We request the Congregation to please come in large numbers and pray together for the Lord to do great things through this church.
---
World Sunday School Day (5th November, 2017)
Like every year, the World Sunday School day was celebrated on 5th November, 2017 in our Church in the afternoon Odia Worship Service @ 3:30 pm. It was truly a wonderful seeing our children perform on this day. Starting from beginner to senior level, there was riveting performance by everyone. Children from our satellite churches in Chandrasekharpur and Kalinga Vihar too performed on this occasion. Rev. Ayub Chhinchani shared God's Word on this day. Please continue to uphold our children in your prayers. We encourage you to send your children to Sunday School as it will keep them rooted in God's Word from this tender age.
---