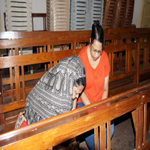 Church Events in July 2019
Quarterly Prayer Week (1st – 6th July)
The Quarterly Prayer Week was held in the church from 1-6 July 2019. Inspite of the rains and inclement weather, many brothers and sisters have expressed their love for the Lord Jesus by turning during this week. Every evening, the meeting started with praise and worship and after a short exhortation from God's Word, the worshipers spend time in prayer. It was a time of heavenly blessing for those who attended these meetings. The next Quarterly Prayer will be held in October later this year.
---
VBS – 2019 Teachers' Thanksgiving Meet held on 10th July
A meeting of the VBS teachers was held in the church on 10th July. It was a time of thanksgiving for all the blessings He showered upon the children during this year's VBS. We thank all the teachers again for their hard work and dedication in imparting words of wisdom to our precious children who came to attend VBS held in May this year.
---
2nd Saturday Chain Prayer (13th July 2019)
The Monthly Chain Prayer was held in the church on 8th July, 2019 from 7 am till 1 pm. We thank those brothers and sisters who came and attended this time of prayer. Please join us in the chain prayer held every 2nd Saturday of the month.
---
Revival Meeting held on 20th and 21st July 2019
A Revival Meeting was held in the church on 20th and 21st of July. It was organized by Bhubaneswar Pastors' Prayer Fellowship (PPF). The meeting started @ 7 pm on both the evenings. Bro. T. Christopher of Tamil Nadu was the speaker on this occasion. We had wonderful crowds on both days. Those who attended were richly blessed by God's Word.
---