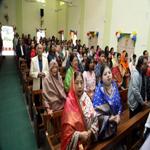 Church Events in January 2020
New Year Service (January 1, 2020)
Great is thy Faithfulness: they are new every morning. We praise God that as a church the Lord helped us to see 2020. We had Service in both English and Odia. In the English Service, Rev. Songram Keshari Singh shared God's Word; while Rev. Dr. Ayub Chhinchani shared God's Word in the afternoon Odia Service. We thank both our Pastors for ministering to the congregation of New Year's day. Many attended the Service and were blessed by God's Word and the fellowship of believers. May the Light of the Gospel shine in and through this church through the year 2020.
---
New Year Service (January 1, 2020)
Like previous years, the Christian Endeavor Union conducted the Musical Night on 1st January 2020. Many young and fresh talents gave their special performances. We thank God for the C.E. team in our church who are a source of blessing to many lives.
---
Quarterly Prayer Week (January 6-11, 2020)
The Quarterly Prayer Week was held for 6 days from January 6 till 11, 2020. Our Church Pastors and leaders shared God's Word on the various nights. It was a time of spending time at the feet of the Lord with the believer's fellowship around. We praise the Church Board for conducting such a wonderful prayer week on a quarterly basis in the church for the benefit of the worshipers. Let us uphold each other in prayer as we start the year 2020. Let me add: The Prayer Week included six days of exhilarating expereince when we came together to pray every evening. A big thank you to all who participated.
---
Monthly 2nd Saturday Chain Prayer (January 11, 2020)
The Monthly Chain Prayer was held in the church on 14th March, 2020 from 7 am till 1 pm. We thank those brothers and sisters who came and attended this time of prayer. Please join us in the chain prayer held every 2nd Saturday of the month. 11 am till 12 noon slot was for the ladies.
---
Food Fest by Mahila Samiti (January 12, 2020)
Our Mahila Samiti members organized a FOOD FEST in the church premises after the Odia Worship this Sunday (January 12). Many mouth-watering delicacies were prepared by our mothers and sisters. It was enjoyed and appreciated by one and all. We thank the Mahila Samiti for this wonderful initiative.
---