Church Events in January 2017
Consultation Meeting on 25th January, 2017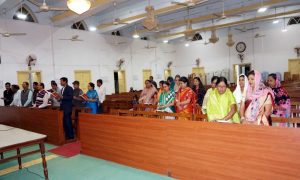 On 25th January, there was a consultation meeting of the Church Board members, Pastors and Evangelists and their spouses @ 7 pm. It was a time of much needed Prayer and reflection on our way forward. Both our Associate Pastors and Church Secretary shared their views and encouraged one and all to take up God's work with more seriousness.
Rev. B.N. Satpathy presided the Service. Then Rev. Ayub Chhinchani took a brief exhortation for the Church leaders and stressed on the need to have a clear-cut vision for the Spiritual as well as numerical growth of the Church. Then Rev. B.N. Satpathy spoke to the spouses and encouraged them to support their husband/wife who are in the ministry to do God's work with more zeal. He reiterated the fact that you should be proud of your spouses as they are in the highest badge of office and serving the most high God. In the end, Church Secretary, Mr. Paresh Das spoke to the leaders on teamwork. He stressed on the need to have more passion and unity and ended with this message that we are accountable before God as we are serving Him and we are here only by His will.
Then the Pastors asked the leaders present to give their vision statement for 2017 and beyond. After which, there was an open discussion and many came out with their ideas for the spiritual improvement of the Church. In closing, there was Prayer and a time of commitment, where the members surrendered their hearts and minds to serve Jesus with a passion for the lost. There was a fellowship dinner, which was contributory. It was a first such event that has ever happened in our Church history. We Praise God for this meeting. We also request the congregation to keep our leaders in Prayers as they take the baton of serving in the Church till 2019. God bless us all.
---
 

2nd Saturday Chain Prayer (14th January, 2017)
The monthly Chain Prayer was held on the 14th of this month in Church from morning 6 am till evening 6 pm. Many came for this Prayer in the different hours allotted to the various Prayer groups. The last 2 hours was for the members of the Mahila Samiti. We Praise God for this whole day Chain Prayer. Please join in next month. We thank all those who made time to come for the Chain Prayer.
---
Water Baptism conducted on 8th January, 2017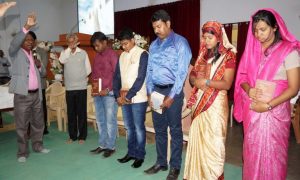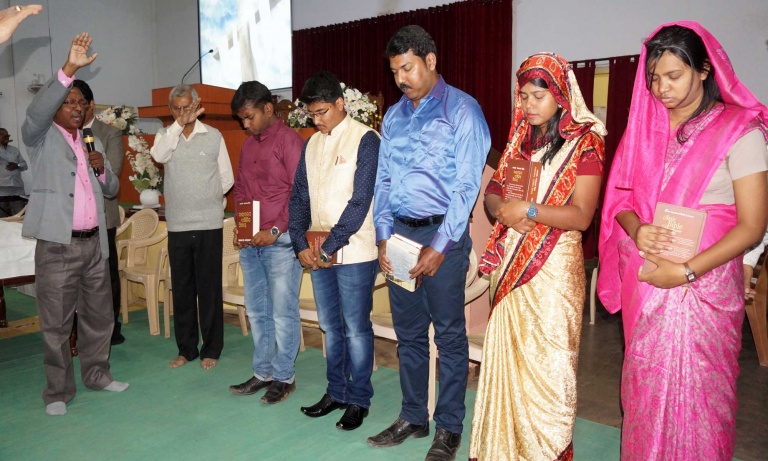 On 8th January, 2017; we had 5 young people who accepted Jesus Christ as their personal Lord & Savior publicly. They were baptized in the morning, and acceptance in the afternoon Odia Service where they were  presented with a Bible based doctrine and Prayed for by our Associate Pastor, Rev. Ayub Chhinchani.
---
 

Special Thanksgiving Prayer Meeting held on 2nd January, 2017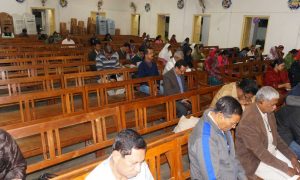 A Special Thanksgiving Prayer Meeting was held on Monday (2nd January) at 7 pm, which is earmarked as the Weekly Church Prayer Time. Rev. Susanta Patra from Kolkata shared God's Word and then Rev. Ayub Chhinchani led the Congregation in Prayer. Many attended the Meeting as all the various wings of the Church were invited too. Rev. Patra stressed on the need to Pray without ceasing and also to be truly passionate in our Prayers for this city and for those who are lost.
He stressed on the need to be passionate for this city as people are perishing in this area without knowing the True and Living God. In the end, we Prayed for this city and for those in need. Without Prayer, God will never answer. Remember, Prayer brings God on the scene.
Those who attended the Meeting were blessed. Please join us in this Weekly Church Prayer Meeting held on Mondays @ 7 pm.
---
Musical Night by C.E. Union held on 1st January, 2017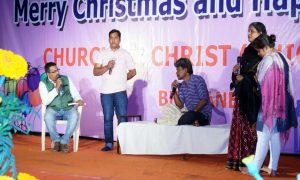 On 1st January night @ 6:30 pm, the Christian Endeavour Union (C.E.) organized a Musical Event in Church. Rev. Ayub Chhinchani shared a brief message and it was followed by heart-touching skits by members of Mahila Samiti and C.E. Union. The English and Odia Choirs presented special numbers. There were a few solo numbers presented by the participants. It was a colorful evening as we started 2017 with our hope firmly on Jesus Christ. We thank the local C.E. Union for organizing such a beautiful event on the very 1st day of 2017. The C.E. Union meets on Tuesdays @ 7 pm.
---
New Year Service – 2017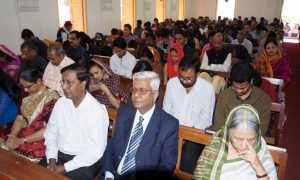 This year's speaker was Dr. Atul Y. Aghamkar from Bengaluru. He shared the Word of God in both the Service. We had a packed house in both English and Odia Service. Many new faces and people from other faith had come to visit our Church and hear the Holy Word. We Praise God for giving us another New Year in our lives. Let 2017 be the year of winning souls for our Church. We uphold our congregation in Prayers.
---