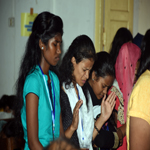 Church Events in August 2019
Water Baptism on 4th August
We are extremely happy to inform you that one brother, who believed in the Lord Jesus Christ and accepted Him as their personal Lord and Saviour was baptized in water on 4th August morning by our Pastor Rev. Dr. Ayub Chhinchani. He is bro. Priyanshu Pradhan. Kindly uphold him in your prayers.
---
2nd Saturday Chain Prayer on 10th August
The Monthly Chain Prayer was held in the church on 10th August, 2019 from 7 am till 1 pm. We thank those brothers and sisters who came and attended this time of prayer. Please join us in the chain prayer held every 2nd Saturday of the month. 11 am till 12 noon slot was for the ladies.
---
Morning Prayer celebrates their 27th Anniversary (12-08-19)
It was a blessed time of worship, prayer, reflection and fellowship this morning as more than 60 brothers and sisters gathered in the church to celebrate the 27th anniversary of the Morning Prayer. The group of prayer warriors meet at 7 am in Church every day (except Sundays) for an hour to praise worship and intercede. It is a prayer opportunity for all worshipers. Come and be a part of this experience!
Morning Prayer now has a WhatsApp group — coc@morning prayer.
---
BE ALIVE – Youth Retreat (15th August)
Like previous years, this year on 15th August conducted a Youth Retreat. The theme was 'Be Alive' taken from Philippians 1:21. Mr. Samanta Sekhar Benya from Koraput was the Resource person. Nearly 250 young people from nearby churches attended this Retreat. Many gave their lives to Christ and there were many who rededicated their life to Jesus. It was truly a fruitful time for those who attended.
---
Mahila Sabha honoured @ Khurda One-day Retreat (17-08-19)
It is our great pleasure to inform you all that by the grace God, our Mahila Samiti team has received the 1st prize in talent competition and 3rd prize in Bible quiz competition in one day retreat held at Khurda Baptist Church held on 17th August 2019.
---
'Love your Selfie' Youth Retreat held on 23rd August, 2019 @ C.S.Pur
Despite the heavy rain more than 60 young men and women attended this special retreat designed for the youths of our church. The theme was taken from Psalm 139:14. There was focused attention as Rev. Dr. Ayub Chhinchani and Rev. Songram Keshari Singh conducted the sessions. The worship time was memorable. It only showed our young people are hungry for the bread of life and eager to live for Jesus. We thank all the seniors leaders and few of our Deacons who attended and helped in conducting the group discussion. Each participant was presented with a packet of excellent Christian books including E.D. Chelladurai's '101 Bible Lessons'. Request the church to pray for our young people. A big thank you to our CE leaders, Rev. Sandeep Giri, Evg. Pratap Kumar Sahoo and Evg. Ranjit Singh.
---
Mahila Sabha honoured @ CNI Chapel Bhubaneswar on 23rd August, 2019
Mahila Samiti Union Church Bhubaneswar have got first prize in Song competition and third prize in group Bible Quiz competition at CNI Chapel Bhubaneswar one day retreat held on 23.08.2019.
---
Special Prayer Meeting conducted on 26th & 28th August, 2019
We thank all the brothers and sisters who attended the special prayer meeting on Monday (26-08-19) and today (28-08-19). We prayed for our nation and rulers. The need is to pray and we'll pray. Let us continue our supplication for the nation, our leaders and the gospel. Thank you.
---