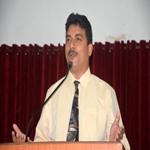 "Characteristics of an Ideal Church – I"
Rev. B.N. Satpathy spoke from Acts 2:41-47. His theme was '7 Characteristics of an Ideal, local Church'. In this 1st part, he emphasized on the 1st 4 points:
a). A Meeting Church (place of togetherness & fellowship)
b). A Sharing and a Caring Church
c). A Worshiping and a Praying Church
d). A Rejoicing and a Blessing Church.
Let us remember that a Church is a miniature of Heaven on Earth.