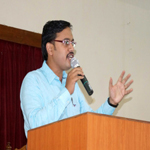 'Being God Conscious in an Ungodly world' by Mr. Sandeep Kumar (29th April, 2018)
Mr. Sandeep Kumar preached from Daniel 1:1-14. His theme was 'Being God Conscious in an Ungodly world.'
Is it possible to be a totally fulfilled human being without violating the law of God and going away from the blueprint that God has set for your life and if so; what does that kind of a man look like!
Let us look into Daniel's life and draw some principles that will enable you to draw the lines in the right places so that you can be a disciplined man in whom and through whom God does His work.
a). He drew his line of Resistance by the training of his appetite.
b). He drew his line of Dependence by leaning completely on God and not on his own understanding and knowledge.
c). He drew his line of Confidence by trusting Him fully even through life's toughest test.
Be blessed by the Word.