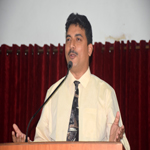 'Be careful how you live!' by Rev. B.N. Satpathy, (20th January, 2019)
Rev. B.N. Satpathy preached his last sermon here @ COC (English Service) before leaving for USA. The passage was taken from Joshua 23:6-8. The theme of his message was 'Be careful how you live!'.
There are 3 things we should be careful about our Christian Living:
a) A life of Complacency (v.6): It talks about giving first priority to God's Word. We should be focused on His Living Word and never be slack in our spiritual life.
b) A life of Compromise (v.7): Never allow yourself to compromise with the world. You may stay away from idol worship, but there are lot of things that hinders your attention from God; may be your career, your studies, your friends…when God says No to something, His no can never become a yes.
c) A life of total commitment to Christ (v.8): Are you willing to bear the Cross? Is there anything that's holding you back from being totally committed to the Lord? Come to JESUS.