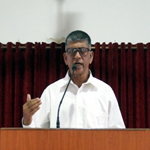 'Authority of a Believer' by Pas. Deepak Sahu (19th August, 2018)
Pas. Deepak Sahu preached from Luke 10:17-20. His theme was 'The Authority of a Believer'. The Bible says when you accept Christ, you are His child. He has given you the power and authority to trample over the devil.
Are you exercising your God-given authority? Do you recognize that as a believer in Christ, you are not ordinary.
Start living in His Grace and Power. Live a victorious life in Jesus Christ.