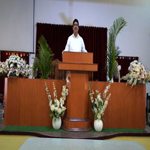 "Are you Fruitful/fruitless to the Lord?" by Rev. B.N. Satpathy (Holy Monday), 30-03-15
Rev. Satpathy spoke on Mark 11:12-14. Are you fruitful or fruitless to the Lord Jesus this evening?
3 things about the Lord on that day.
1. Lord's Expectation.
2. Lord's Disappointment.
3. Lord's Anger.
It's a time of retrospection this evening where we are in our Spiritual journey!!!