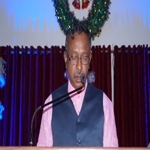 'Are you burdened for souls?' by Rev. Dr. Ayub Chhinchani, (Prayer Week – Day 2), 09-10-18
Rev. Dr. Ayub Chhinchani preached from John 4:31-36. His theme was based on 'Are you burdened for lost souls?'
There are 3 signs we can see when we are passionate for souls:
1) To spread the Gospel wholeheartedly.
2) To pray with tears for others Salvation.
3) To develop the attitude of giving to the needy and for Missions.
If we look at the Cross with repentance, then we can feel the pain in God's heart for souls.