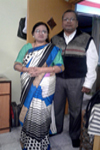 The Miracle at A.G. Square

"God is our refuge and strength, a very present help in trouble." Ps. 46:1
---
 I Asit Kumar Mohanty and my wife Latarani, while serving the Lord, His Church and working for the extension of His kingdom being an independent humble preacher, faced a dreadful satanic attack on 24.05.2016 at about 08:40 PM when we were returning home through A.G. Square, Bhubaneswar on our Scooty (2 Wheeler). On our way two drug addicted young criminals came from behind on a mo-bike and suddenly snatched my wife's vanity bag & fled away by which we both fell off of our vehicle & she immediately became unconscious due to a fatal head injury by the severe hit on the road and also resulted in a profuse bleeding from her head, ear & nose. She had a deep wound of about 3 to 4" on her left head caused huge swelling along with injuries on the whole body. I also had minor injury but immediately lifted her from the road and took her to the nearby Capital Hospital and the Doctors on duty advised me and referred her to Apollo Hospital since she was very very critical & that being the only option available. Her GCS (Glasgow Coma Scale) was rapidly reducing to 4 to 5 & further and according to them, she was about to die any moment & her respiratory system was also failing.  She was then taken by an Ambulance to Apollo Hospital where she got admitted into the Emergency ICU.
On our way to Apollo I was totally nervous and screamed before the Lord & asking Him why this has happened to such a Godly lady? My faith on God was under severe test when we both have not done any harm to anybody, why then we had to face this deathly adversity?
But at the same time , the Sprit of God was prompting me to pray to God  for her life & His miraculous healing grace to be upon her. Throughout the way, I was committing her before the throne of grace of God in the name of Lord Jesus Christ by claiming His living blood on her. And to my utter surprise, I immediately heard the comforting & consoling voice of the Lord that she will be alive.
As soon as we reached Apollo Hospital's Emergency Deptt. Satan again started playing mischief with us through the Doctors there who attended & incubated her with other emergency treatments. They said, she is very critical & we cannot say whether she'll survive or not and the chances of survival are very remote. By these statements I was again broken down but through our Church Pastors, our Gethsemane Zone members & all other C.E. Members Lord encouraged me & even through  my Son & Brother in Law reminded me to hold patience & be hopeful. The Spirit of God soon spoke to me through Jer.32:27, 30:17 & 29:11 & comforted me. Many Doctors there told us that she may undergo brain surgery & that again was a great worry for all of us. I was only crying. Bro Emmanuel Lenka reached there on time who knew all Sr. Doctors of Apollo Hospital and he contacted the topmost Neurosurgeons who came at 02:00 AM midnight & checked all her scan reports confirming us that she doesn't require any Brain surgery which was the first miracle of God but as she has multiple bleedings & swellings inside the brain, they'll admit her to the neuro ICU & treat her through medicines while being on ventilator. Each day from then was a test of our faith. As the GCS scale was slowly escalating and she was recovering our faith became stronger and the praises become louder. During these times my brothers and sisters in Christ came for visits to the hospital which provided the additional strength and solace for which our family shall be eternally grateful to them & committed to the Church of Christ. She was in Coma  till June 12, 2016 that day being our Anniversary day, and the first words being 'PRAISE THE LORD' she whispered on my prompting after opening her eyes in the morning.
This was the 2nd miracle. God heard all our prayers of our Church & throughout the globe. She started improving day by day by God's tremendous miracles occurring everyday with her. Her paralyzed left hand as per her Consulting Doctor would have taken nearly another 4/5 months more to be active but to our surprise the same became active & she was able to join both the palms together in a praying position very early. Everybody was surprised & felt the miraculous healing touch of God there in Apollo and could know by our lives that our God is a prayer answering living God.
Not only Lord God treated & healed her in Apollo & restored her back to a new life again, He also provided the financial help through our Church being a model Church, some prayer zones including Gethsemane, relatives & even also strangers.
God also helped me to forgive those criminals and pray for their redemption when I was called to the Police Station to encounter the 1st thief one who was caught & had admitted their crime & confessed spending Rs. 3,000/- in consuming drugs being the money they got from my wife's purse. My heart broke again by hearing the reason for which they commit such grievous crimes of jeopardizing the lives of innocent people. I sincerely prayed to God to free these young drug addicted snatchers from the bondage of Satan.
However, Mrs. Latarani got discharged from Apollo on July 1 at 2300 hrs. & we all returned home & continued her treatment through medicine & physiotherapy. God also healed & restored her memory whatever she had lost and as of now she's improving satisfactorily at home being in the safe hands of God which reminds us of God's promises & comforting blessed words from Ps.116:1-14 & 118:23-24. All praise & glory be unto Him alone.
---
Mr. Asit Kumar Mohanty | Church of Christ (Union Church), Bhubaneswar