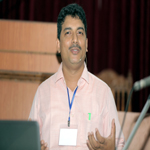 '5-fold Expectation from God's children' by Rev. B.N. Satpathy (21st January, 2018)
Rev. B.N. Satpathy continued on his series from the book of Deuteronomy. This is the 4th part in this series. The Scripture portion was from Deuteronomy 10:12-13.
His theme was 5-fold Expectation of God from his children. They are:
1). Fear Him
2). Walk in His Ways
3). Love Him
4). Serve Him
5). Obey Him.
Let us live this year 2018 for His Glory alone.