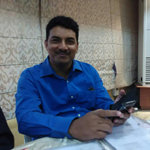 "4D's that hamper your Spiritual Life" by Rev. B.N. Satpathy (17th September, 2017)
Rev. B.N. Satpathy started a new series from the book of Deuteronomy. The Scripture portion today was from Deuteronomy 1:29-35.
His theme was '4D's/sins that can hamper our Spiritual life'. What are the 4D's?
a). Disobedience
b). Defiance
c). Discontentment
d). Distress/Doubt.
How is your spiritual life today! Are you living as per God's Command or are you living a life on your own terms! Time to retrospect.