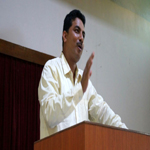 "4 things about Secret/hidden Sins" by Rev. B.N. Satpathy (07-06-15)
This morning, Rev. Satpathy spoke about Secret sins from Joshua 7:13,14. 4 things about hidden/secret sins:
a). The consequence of hidden Sin (v. 2-9)
b). The character of hidden Sin (10-12)
c). The confrontation of hidden Sin (v. 13-21)
d). The cleansing from hidden Sin (v.22-26).
Remember, Hidden Sin brings defeat and destruction in our lives.