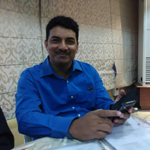 '3 signs of Backsliding' by Rev. B.N. Satpathy (8th April, 2018)
Rev. B.N. Satpathy preached from John 21:1-14. This passage talks about Post-Resurrection of Jesus Christ where He appears to His disciples again. His theme was '3 signs of backsliding'.
1. Leaving God out of the equation. It is a sense of abandoning God.
2. A sense of Self-sufficiency. It is sheer dependence on our own ability and talent.
3. When we doubt in the Provision of God. When we don't believe in His miracle-working power.
There are 3 takeaways we learn here from this text. They are
a). We might Abandon Him; but God will never leave us or forsake us.
b). Our hard labor doesn't guarantee success without the Presence of God.
c). More than you know your needs, He knows it. Do you still doubt on Him today! Trust God. Truly, what a Friend we have in Jesus!