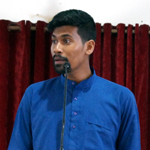 '3 mistakes Elimelech & Naomi did' by Mr. Swarup Singh (6th October, 2019)
Mr. Swarup Singh preached on the theme '3 mistakes Elimelech and Naomi did' from Ruth 1:1-5. Their 3 mistakes were:
Unbelief: Not trusting on the Providence of God. Elimelech walked by sight, not by faith. He measured on the physical, not on the Spiritual.
Deception: trying to cover up your mistakes. Naomi was trying to cover up. Many times we try to rationalize and deceive ourselves.
Bitterness: blaming God for your trials. It clouds our vision so we are not able to see what God is doing behind the scenes. Let us never forget, God is at work. We need to trust Him fully.