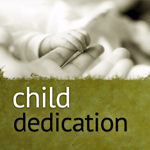 Why we should dedicate?
A child is considered to be a reflection of God's love. Baby Dedication is a commitment service where parents promise to raise their child in a God honoring way. The Dedication ceremony is a time to publicly make a commitment to pray for the child, love the child and guide the child toward a personal relationship with Christ. We do have Child dedication in our Church on the 3rd Sunday. You need to contact either of the Associate Pastors, Rev. Ayub Chhinchani/Rev. B.N. Satpathy or you can get in touch with the Church Secretary, Mr. Paresh Das for further details. It is not important that we only dedicate the child for the sake of it; but it is the responsibility of the parents to make them grow in the fear of the Lord from their childhood. The Church also should take responsibility towards this task.
When we dedicate our children, we need to understand this truths clearly:
I acknowledge that my child is a gift from God.

I will be a conduit for God's love to my child.

I will communicate to my child that he/she matters to God.

I will pray for my child.

I will commit to do all I can to raise my child in a home that honors God, and support his/her spiritual growth.
---

For your next baby dedication, here are some great bible verses to remember
"Before I formed you in the womb I knew you, and before you were born I consecrated you; I appointed you a prophet to the nations." – Jeremiah 1:5
"And he took them in his arms and blessed them, laying his hands on them." – Mark 10:16
"And how from childhood you have been acquainted with the sacred writings, which are able to make you wise for salvation through faith in Christ Jesus." – 2 Timothy 3:15
"And the Child grew and became strong in spirit, filled with wisdom; and the grace of God was upon Him." – Luke 2:40
"Behold, children are a heritage from the Lord, the fruit of the womb a reward. Like arrows in the hand of a warrior are the children of one's youth. Blessed is the man who fills his quiver with them! He shall not be put to shame when he speaks with his enemies in the gate." – Psalm 127:3-5
"Beware that you don't look down on any of these little ones. For I tell you that in heaven their angels are always in the presence of my heavenly Father." – Matthew 18:10
"But when Jesus saw it, he was indignant and said to them, "Let the children come to me; do not hinder them, for to such belongs the kingdom of God." – Mark 10:14
"Every good gift and every perfect gift is from above, coming down from the Father of lights with whom there is no variation or shadow due to change." – James 1:17
"For I know the plans I have for you, declares the Lord, plans for welfare and not for evil, to give you a future and a hope." – Jeremiah 29:11
"I have no greater joy than to hear that my children are walking in the truth." – 3 John 1:4
"I prayed for this child, and the LORD has granted me what I asked of him. So now I give him to the LORD. For his whole life he will be given over to the LORD." – 1 Samuel 1:27–28
"I will instruct you and teach you in the way you should go; I will counsel you with my eye upon you." – Psalm 32:8
"Just as you cannot understand the path of the wind or the mystery of a tiny baby growing in its mother's womb, so you cannot understand the activity of God, who does all things." – Ecclesiastes 11:5
"This is what the LORD says—your Redeemer, who formed you in the womb: I am the LORD, who has made all things, who alone stretched out the heavens, who spread out the earth by myself…" – Isaiah 44:24
"You have taught children and infants to tell of your strength, silencing your enemies and all who oppose you." – Psalm 8:2
---