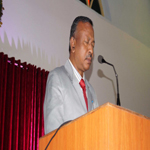 "Walking through life's storms" by Rev. Ayub Chhinchani (10-04-16)
Rev. Ayub Chhinchani spoke from Psalm 88: the key verse is v.15. His theme was "Walking through life's thorns".
3-steps we need to take:
a). Maintain your connection to God
b). Maintain your committment to God
c). Maintain your celebration to God.
Retrospect your lives today as you listen to this message.