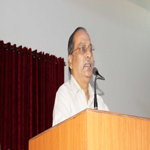 "The value of Solitude" by Mr. Binoy Kumar Muduli (08-11-15)
Mr. Binoy Muduli spoke from two portions: Lamentations 3: 25-28 & Psalm 46:10. His theme was "The value of Solitude".
He reiterated the fact that are we giving the space and liberty to God to work in our lives! We need to give Him that time. God Bless you all as you listen to this message.