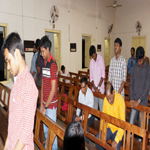 Stepping Out held on 20th June, 2015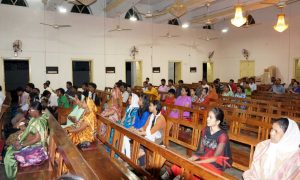 This Program "Stepping Out" was designed for those students, who were entering a new horizon. Say, someone who has passed Class 10th and entering college or after 12th, entering into Graduation and so on…The Program was attended by about 80 people. Many students and their parents too came for this Special evening meeting. It started with a Word of Prayer by our Pastor. Rev. Ayub Chhinchani conducted the program. Church Secretary Mr. Paresh Das welcomed the audience on behalf of the Church. The two Scripture portions were taken from Proverbs 3:5 and Jeremiah 29:11. Both the english and odia choir members presented special numbers; while Odia choir convenor, Mr. Tapas Dey presented a solo number. Inspirational talks were given by 3 speakers. They were…
1). Rev. B.N. Satpathy, who spoke on "Identity in Christ". His focus was on how we can be used by the Lord and be His Witness!
2). Mr. Sandeep Kumar then spoke on "Struggles/Challenges of today's Youth". He gave a detailed presentation on the 5 key struggles faced by the youth of today.
3). Mr. Paresh Kumar Das spoke to the parents about nurturing and making your children a legacy and a pleasing aroma to the Lord. His topic was on "Parenting".
Finally, Prayers were offered by our Associate Pastor Rev. Chhinchani for all the students; for their success in life and for their spiritual walk with the Lord. We hope and pray that this small initiative by the Church board must have spoken to all the students who were present on 20th June evening!