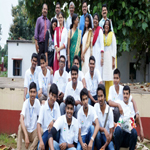 Set Apart – A Youth Retreat (15-08-16)
Are you truly Set Apart!
Like last year; this year too, Church of Christ (Union Church), Bhubaneswar conducted a one-day Retreat for the youths between 15-30 years of age. The Program started around 9:30 am with the registrations and ended by 5 pm. Nearly 320 young people were registered on the day when India celebrated her 70th year of Independence.
This year's Resource person was Rev. Sudipta Nanda from National Fellowship, Kolkata. He had 3 sessions on being Set Apart; How can we remain Set Apart and the Challenge of following Christ. The morning Devotion was led by our Associate Pastor, Rev. Bichitrananda Satpathy. There was lively Worship led by our Church English Choir; they sung numbers in Odia, Hindi and English. It was truly riveting stuff from the Choir. After the lunch interval, there was a heart-touching skit by the students of the Youth fellowship, which we conduct here in Union Church every Saturday @ 5:30 pm. It was simply outstanding and had a great impact on the audience. Many hearts were touched by the skit.
There were Group discussions led by the respective Group leaders after the 1st Session of our Guest Speaker. They were divided into 14 groups in all; it was a blessed time for the participants who were in various groups. Their queries were answered and clarified by an experienced panel of leaders. Then there was great excitement in the ice-breaker session; where the best answers received prizes as a token of love. It was a time when the audience got involved completely and many came forward to participate. This session and the entire show was conducted by our Church deacon Mr. Sandeep Kumar and a young lady Ms. Subhashree Das.
After the lunch break, there was another very important session; known as the Q & A session; which was addressed by our panel of experts. Many queries were answered to the satisfaction of the audience. Commitment Prayer was led by Rev. Ayub Chhinchani; who ended the Retreat with Prayer and Benediction.
We Praise God for this awesome privilege that He gave us to conduct such a Retreat for the youngsters. We wish all of them great success in life and expect them to lead a pleasing life to Glorify Christ in and through their lives. Let us uphold them in God's hands and this should be our Prayer; not a single soul should perish…God loves them and is calling such young people to come to Him. Come to Him before it is too late.