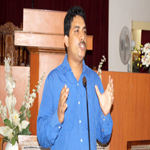 "Series on Suffering" by Rev. B.N. Satpathy (24-05-15)
Rev. Satpathy continued his series of Suffering. Today's Scripture portion was from 2 portions Job 14:1 & Job 5:7.
4 reasons/causes for suffering in life!
a). Curse of sin that came upon human race (Adam sin).
b). Because of our own actions. We act against nature.
c). Due to our own personal sins.
d). due to God's discipline.