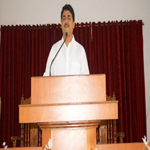 "Series on Suffering" by Rev. B.N. Satpathy (17-05-15)
He spoke on Christian suffering. This was the 2nd part of the series started last month. Scripture portion: 1 Peter 4:12-19. Why a Christian must rejoice in Suffering?
1. He assures us His Glorious Presence.
2. Suffering glorifies God.
3. Suffering calls us to trust in the Lord, knowing what is best for our lives.
May God speak to each one of you!!!