November @ COC
Annual Mahila Divas (20th November, 2016)
The Annual Mahila Divas organized by the Mahila Samiti of the Church was held like previous years on 20th November, 2016. This year's speaker was Ms. Smita Pramanik from Puri. This is a day when we dedicate it to the ladies of the Church. The members of the Mahila Samiti gave wonderful presentations to glorify God. There were some lovely numbers by the ladies and along with it there were a few heart-touching skit which was performed by them. Our Associate Pastor, Rev. Ayub Chhinchani presided the meeting and encouraged our mothers. Among others, the Mahila Samiti President Ms. Ranjita Behera, Secretary Ms. Sasmita Chand and Treasurer Ms. Jyotsna were present. It was an awesome time where our sisters and mothers glorified God through their performances. The Mahila Samiti Bulletin was also released and presented to the members.
May the good Lord use our precious mothers and sisters who are the backbone of any family. It was truly a joyous time for the packed audience who were there. Let us uphold them in Prayers as the ladies meet every Saturday in Church for their time of Worship and Fellowship.
---
Annual Sports by C.E. Union (14th November, 2016)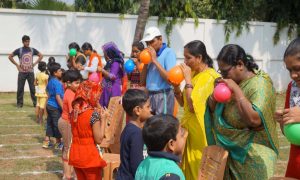 The Annual Sports was conducted by the Christian Endevour Union (C.E.) on 14th November, 2016. The event started around 11 am in the morning and ended by 6 pm in the evening. There were various categories starting from Sub-junior to senior level. Both our Associate Pastors and senior C.E. Leaders were present on this occasion. There were a wide variety of events that were held on that day. They were Balloon race, ball race, chocolate race, 50 meter dash, 3-legged race, blow the balloon, discus throw, needle race, hit the wicket, blind hitting among a host of other events. Many children were part of these Sports and it was a day where everyone enjoyed to the  fullest. The program ended with musical chair for the ladies above 35 years of age. We thank the C.E. Union for conducting the Annual Sports in the Church. They meet every Tuesday evening in Church @ 7 pm for their time of Devotion. Keep the C.E. Union in your Prayers.
---
Special Evangelical Meeting (7th-8th November, 2016)
There was a Special Evangelical Meeting held in the Church on 7th and 8th November, 2016 where God's servant bro. Daniel Calvin from Mumbai was the Resource person. Bro. Calvin pastors a cluster of 9 Churches in Maharashtra and Mumbai areas. The meeting was held during the Monday Prayer Meeting time @ 7 pm. It was earlier planned to be for one evening only, but due to popular demand from the Congregation, bro. Calvin was requested to preach the next day too. It was truly a Blessed time for all those who were present on these two evening meetings. On the 1st night, he preached on "Are you in God's hand?" and on the 2nd night, he preached on "He has the Solution to all our problems". We thank bro. Calvin for accepting our invitation and encouraging our Congregation through God's Word.
---
World Sunday School day (6th November, 2016)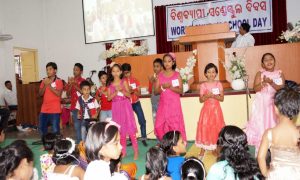 The World Sunday School day was observed on 6th November, 2016 in Church. Our precious Sunday School children gave their superlative performances through songs, skits and other items. Rev. Ayub Chhinchani encouraged the children and also shared the Word of God. Rev. Chhinchani preached on "Guiding your children on the Right track". Sunday School Superintendent among other prominent Sunday school leaders and teachers were present on this special day. World Sunday School day was also observed in our C.S. Pur Worship center where Mr. Sushil Kumar Supakar conducted the proceedings. Please uphold our precious children in your Prayers daily as they grow in the fear of the Lord from this young stage. Every Sunday morning, we have the Sunday school from 7:30 am onwards. Kindly coax your children to come to the Sunday school as they will be richly blessed.
---