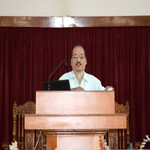 "Measure your life" by Mr. Binoy Kumar Muduli (31-05-15)
Mr. Binoy Muduli spoke from Ephesians 3:14-21 this morning. The theme of his message was "Measure your Life". Are we living upto the expectation of what the Lord asks each one of us! Are we prepared to meet our God?
Hope this message will be a blessing to many!!!