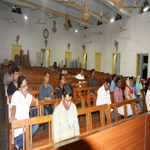 Haggai Institute International Day of Evangelism (27-02-16)
Haggai Institute International Day of Evangelism: 
---
HI Vision: Help ensure that the Gospel is presented in the power of the Holy Spirit with cultural relevance and sensitivity to all peoples, especially in non-evangelized nations/regions.
HI Mission: Haggai Institute advances the skills of qualified Christian leaders to more effectively evangelize their own people, and train others to do the same. 
---
The Haggai Institute Bhubaneswar Alumni Association had a small get-together on the evening of 27th February, 2016 in Church on occasion of Haggai International day of Evangelism to coincide with the birthday of it's Founder, Dr. John Edmund Haggai. In the afternoon, some of the alumni members distributed New Testaments in a local school here in Satyanagar, Bhubaneswar. It was a Blessed time as the Gospel was distributed to the children. In the evening, the program started @ 7 pm. The Odia Choir presented two beautiful numbers on Evangelism.
Mr. Biren Kumar Pradhan presided the entire program in the absence of Haggai Alumni Association President. Rev. Ayub Chhinchani, Associate Pastor, Church of Christ (Union Church), Bhubaneswar opened the meeting with a Word of Prayer. Then Mr. Chinmoy Muduli, Secretary of the Haggai Alumni Association, Bhubaneswar gave a brief report on the day of Evangelism and thanked all those present that evening. After that, Mr. Sandeep Kumar gave a short, inspiring presentation on Haggai Institute and it's role in building leaders for sharing the Gospel of Christ to the unreached parts. Everyone read the HI Vision and Mission and then it was Rev. B.N. Satpathy, who preached from God's Word. He gave a encouraging message on the need of Evangelism. He closed the meeting with a Word of Prayer and Benediction. We all need to understand that Sharing the Gospel is mandatory for every born-again believer; it is not an option. Around 20 alumni members were present. After the Service, there was some light refreshments served. May the Lord continue to use this ministry to reach out with the message of the Gospel in the non-evangelized parts of this nation so that many may come to the saving knowledge of Jesus Christ.
---