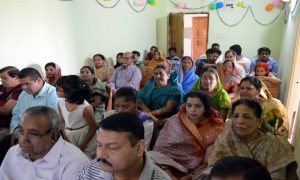 ---
We are extremely happy to inform you that the Lord has enabled us to start a third worship centre at Sundarapada from today (26th February, 2017). The Worship will be held on every Sunday at 9.30 am at Flat No. A-1, G/7, Hi-Tech Plaza, Sundarapada. Both our Associate Pastors and some of our Deacons including Church Secretary were present in the Inaugural Service.
Both our Associate Pastors will be coming in turn and along with them, we have our deacons who will be preaching God's Word along with other speakers. Being the 3rd Worship center in the city, we have the Lord's Supper on the 4th Sunday of the month. Our Evangelist bro. Ranjit Singh along with brothers Samuel Nayak and Jashobant Nag are in charge of this Worship center. Very recently in February 2018, bro. Biswajit Mohanty along with bro. Mosa Kumar have been entrusted with the responsibility of taking care of this center by the Church Board. Rev. Sandeep Giri is in charge too. Please Pray that the Lord may use this new Worship center for His glory alone and let many people come to know Christ. All glory and majesty belongs to Him.
Kindly note: On Christmas and Good Friday, there is no Service in Kalinga Vihar Worship center as the Special Service is held in Church of Christ (Union Church) only.