We have a Odia Worship Service held here every Sunday morning @ 9:30 am. This Worship center was started in HIG-219, K5, Kalinga Vihar on 12th July, 2015. The Church is growing numerically with every passing day. We had a wonderful congregation and continued worship till April 2017. But, we had to shift to another house in that area.
We shifted to a new house in that area and are worshiping there from May 2017 till date. The address of this Worship center is HIG 88, K-5 Kalinga Vihar, near St. Arnold School.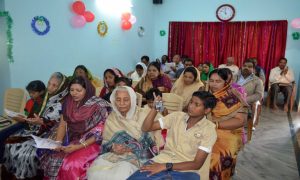 The Lord's supper is being served every 3rd Sunday of the month. It is given by either of our Associate Pastors. Besides the Associate Pastors and Deacons, preachers from within and outside the city are invited to speak in the different Worship Services. Guest speakers are also invited to preach on Special occasions. Mr. K. Tulasi Rao, Ex-Treasurer and a former Church Board member is placed in charge of this Worship center. We also have our Evangelist Sandeep Giri who stays here and looks after the Worship center.
Kindly note: On Christmas and Good Friday, there is no Service in Kalinga Vihar Worship center as the Special Service is held in Church of Christ (Union Church) only.