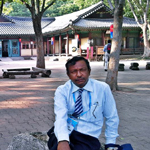 "Christ-centered Church" by Rev. Ayub Chhinchani (31-01-16)
Rev. Ayub Chhinchani spoke from the book of Acts 6:1-7.
His focus was mainly on the early Church. The problems they faced, we too face a lot of issues today. If we are following the Word of God truly; then we can grow not only numerically, but also spiritually.
May God be Glorified through this message! Be Blessed…