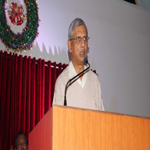 "4 Striking similarities" by Mr. Paresh Das (28-06-15)
Mr. Paresh Das spoke from Mark 5:1-20. He spoke on 4 striking similarities between that man and some of us today!
1). People live as they like because of Sin.
2). We do not obey the Lord as He says.
3). We have been hurting ourselves.
4). We are unable to feel the pain.